A little while back I swore that I am done looking at MOA-based riflescopes and that generally I will hold off taking on any unplanned reviews for a few months until I finish off the write-ups for everything I have on hand already.
Well, I lied.  I didn't mean to, but Maven announced a new FFP riflescopes in a configuration I liked, so I figured I should take a look.  I have never looked at any Maven products before, but I have been following their progress.  Best I can tell, they get binoculars from some very respectable manufacturers in Asia and, as appropriate, align and assemble some of them at their facility in Wyoming.  I like that approach since you can have some very good quality stuff made in Japan, Phillipines or China, but being hands on with quality control at your own facility is a good idea.

When I saw that they introduced a scope, I reached out and very politely asked them to loan me one.  Here is Maven's webpage describing the scope.
The basic configuration of this scope really appeals to me.  It is a 2.5-15×44 scope with FFP reticle, side-focus and covered turrets.  The reticle is a Christmas tree-style design of their own.  Unfortunately, the version they have now is in the wrong units, but I will keep trying to persuade them to see the light.
The scope appears to be made in Japan, but I have a suspicion they do some assembly in the US.  I will confirm the specifics before I finish my review.  In the meantime, as soon as the scope arrived, I slapped it onto my TIkka M695 in 280Rem and headed to the range:
This particular Tikka, despite its rather unimpressive appearance is freakishly accurate, so it is a very good platform to test a hunting scope.  The range where I was shooting has plate out to 1000 yards, so after a rather uneventful sight in, I was mostly shooting steel.  Once I figured out what the wind was doing down range, I proceeded to hit every plate I aimed at using the reticle for holdover.  The only time I used the turrets was for sighting in, but during that short experiment, they adjusted as they are supposed to and had rather nice click feel.




The clicks are 0.25 MOA each and a full turn of the turret covers 20 MOA.  I only needed to use 7 MOA of adjustment to get to the setting I needed, so the turrets did not get much of a work out.  I will rectify that as I continue messing with the scope.
The eyepiece is of the fast-focus variety, so I was able to get adjusted quickly and painlessly.
My initial impressions are quite positive.  Everything on the scope worked the way it was supposed to. Optical quality, at first blush, seems very good for the price range.  This scopes most direct competitor is Bushnells LRHS which, unfortunately, I do not have here, but I have a few other scope I can use to ascertain how the optics of the RS1 stack up.  Based on the limited experience I have had with it so far, I think it will do well.  Here is the spec table:
Delta Titanium 4.5-14x44FFP

SWFA SS 3-15×42

Maven RS1 2.5-15×44

Bushnell LRHS 4.5-18×44

Vortex PST Gen 2 3-15×44

Burris Veracity 3-15×50

Length, in

15.2

13.66

14

14.2

14.3

14.1

Weight, oz

21.7

24

24.5

26.5

28.1

25.1

Main Tube Diameter

30mm

30mm

30mm

30mm

30mm

30mm

Eye Relief, in

3 – 4

4.2 – 3.8

3.4 – 4

3.96

3.4

3.5 – 4.25

FOV, ft@1000yards

21.8 – 9.33

13 @ 10x

34.78 – 7.21

10.8 @ 10x

41.7 – 7

10.5 @ 10x

23.5 – 6.2

11.16 @ 10x

41.2 – 8.6

12.9 @ 10x

36 – 7.5

11.25 @ 10x

Exit Pupil, mm

9.8 – 3.1

11.8 – 2.8

11.4 – 2.93

9.2 – 2.5

16 – 3.3

Click Value

0.3437 MOA

0.1 mrad

0.25 MOA

0.1 mrad

0.1 mrad

0.25 MOA

Adjustment range

34 MOA

36 mrad

100 MOA

24 mrad

E: 22 mrad

W: 11 mrad

E: 70 MOA

W: 40 MOA

Adjustment per turn

5 mrad

20 MOA

10 mrad

10 mrad

Parallax

Yes, AO

Yes, 6m

SF 10 yards

SF

SF, 20 mrad

SF, 50 yards

Zero Stop

No

No

No

Yes

Yes

No

Reticle Location

FFP

FFP

FFP

FFP

FFP

FFP

Reticle Illumination

No

No

No

Optional

Yes

No

Price

$500

$700

$1200

$1400

$1000

$700
The scope is available with two reticle and I choose to look at what seems to be a more interesting design to me: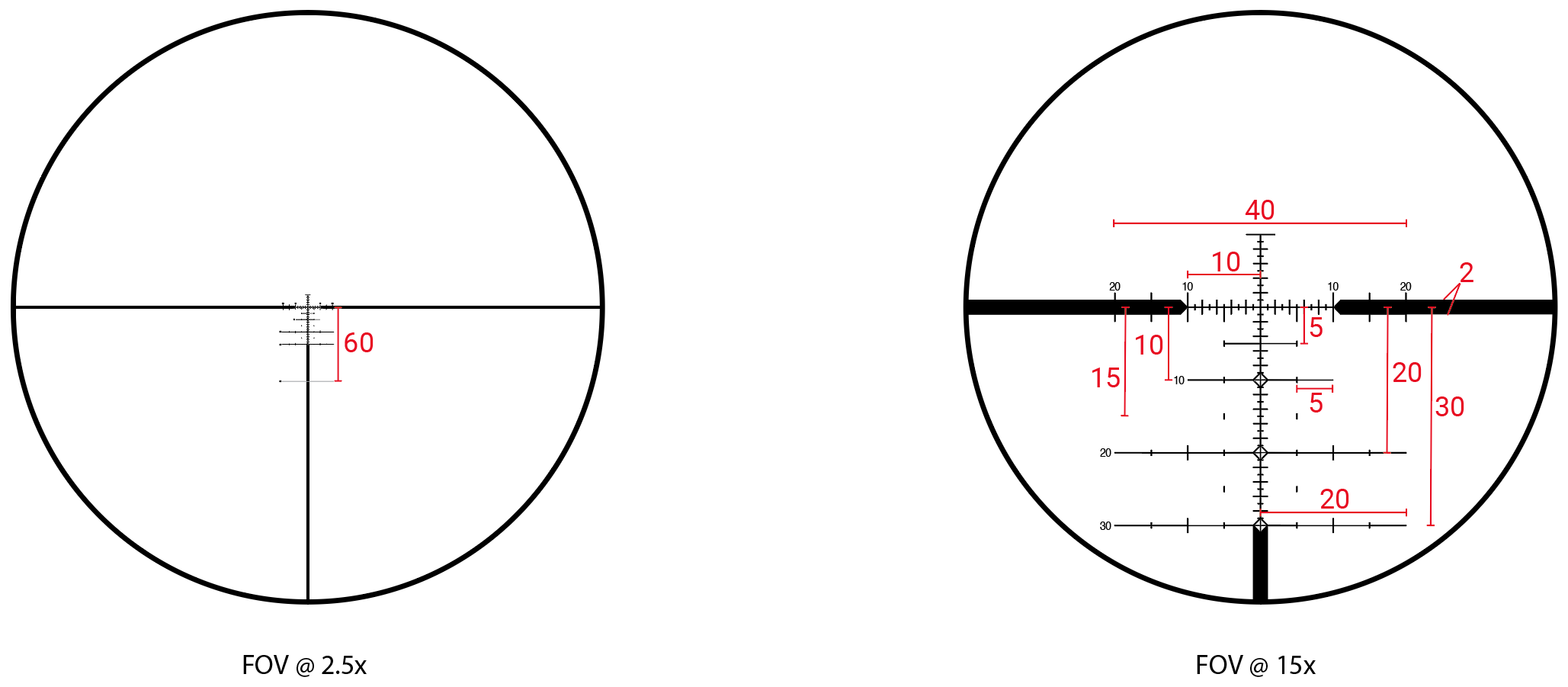 I will take some actual through the scope pictures as I go along so you get an idea of how it looks in real life.  Designing FFP reticles so that they work across a broad magnification range can be tricky, but I think Maven did an overall very respectable job (I will naturally find something to nitpick on later).  In particular, notice how the outer thick bars on the horizontal axis are not too far away from the center aiming point.  That really helps reticle visibility at low magnifications.
The reticle allows for 30MOA of holdover, which takes my 280Rem out to ~1000 yards at sea level.  This time around I was shooting some factory ammo I still have left and with that ammo, 30MOA was about right at 950 yards with a 200 yard zero.  For handloads, I am standardizing this caliber on Badlands Precision's excellent 145gr Bulldozer buller.  With that bullet, I think at 30MOA I will an extra 100 yards or so.  I am unlikely to ever take a shot on game that far out, but it is good practice.
That's pretty much it for a first look.  I like what I am seeing so far.
Stay tuned for more.