Thoughts on Scale vs. Stadia Based Ranging in Variable Low Power Scopes
Thoughts on Scale vs. Stadia Based Ranging in Variable Low Power Scopes
by Les (Jim) Fischer (BigJimFish on AR15.com and Snipershide)
Nov 15, 2011
The purpose of this article is to discuss with some substance different range finding reticles for the 1-(n) power scope. As I have become more involved in writing reviews for this class of optics (The variable low power multipurpose scope review thread), I have found myself thinking more and more about the efficacy of different ranging reticles and approaches. In central Ohio where I live, a shooter does not have much opportunity to range objects further than around 300 yards. Opportunities to shoot that far, particularly to shoot at targets set to unknown distances greater than 300 yards, are vanishingly rare. The land is flat and abundantly fertile, generally preventing long unobstructed view distances. Many of the local and state parks and wildlife preserves have structures marked on the map as "overlooks." If you find yourself in a central Ohio park do not become excited when you see one of these. You will not be presented with a majestic view stretching over an expanse of miles of scenery. What you will likely get is a wooden platform perched on the edge of a fetid mosquito-infested swamp. It won't be an impressive, large, Everglades of a swamp mind you. Central Ohio really isn't a very swampy place. It's just that when it comes to natural ecology that doesn't feature an unbroken canopy of trees, a swamp is what you're left with. This swamp will be called a bird sanctuary. Bring your bug spray: binoculars purely optional. It was with some difficulty then that I located a place suitable to do some ranging practice; a place that, though it was certainly not natural, was also not a swamp. I borrowed some scopes, packed up my photography rig and a ranging target, and went in to find some perspective. But before we talk about that, some background on reticle types and their operation.
Table of Contents:
– Types of Ranging Reticle
– Background on the Scale Route, (mil and MOA Based Ranging)
– Background on the Stadia Route- Half Breeds and Wrinkles
– The Reticle Choice Dilemma
– My Dam Experiment
– Disclaimer
– The Scopes and the Pics
– Thoughts and Conclusions by Scope (GRSC, Trijicon, US Optics)
– The Take Away
Types of Ranging Reticle
The first thing to note is that most rifle scopes use the same basic principle to range. Simply put, trigonometry. You remember back to high school geometry class, right? I think I spent most of that class ogling the girl sitting beside me. I did learn a little trigonometry, though, and married the girl besides.What is required to range using this most common ranging technique is to know the actual width of an object, as well as the angle that width subtends from your viewing point. From this you can mathematically determine the distance you are from the object. Any ranging that employs this method is properly stadiametric in nature, but there are two major subsets of this ranging method that are very different in practice though not in mathematical principle. The first method we will refer to as the scale route and the second as the stadia route. Each route named for what is displayed to the user on the scope reticle. Please note that these are not properly defined terms: I have chosen them for this article because I believe they are useful and descriptive.Background on the Scale Route (mil and MOA Based Ranging)You are all no doubt familiar with mil-dot scopes. The United States Armed Forces in particular has been using mil-dot scopes for very long time now. The form is pretty familiar to any shooter, gamer, or anyone who has watched an action film. In addition to the mil-dot, which is an outdated and simplistic reticle that clearly reflects the limitations of the now antiquated wire reticle manufacturing technology, various mil-scaled reticles exist that use ladder patterns; essentially updating the mil scale technology for modern, improved, glass etched reticle technology. All of these mil reticles are scale type reticles. The reticle itself displays a scale to the user for measuring the target. This is the distinguishing feature of a scale type reticle. Most high powered sniper style scopes utilize a scale type ranging reticle. A scale denominated in mils is simply the metric version of the scale and one denominated in MOAs is the English version. (Editor's note: mils have nothing to do with metric system and MOA have nothing to do with the English system.  They are two different angular measures. Nothing more nothing less.  The fact that MOA is close to an inch at a hundred yards is a coincidence.) Both are angular measurements. Range finding with reticles of this type involves viewing an object of known actual size through the scope and using the reticle to determine how many mils or MOA it subtends. A calculation is then performed, yielding the distance. Formulas exist for different input and output values. A good resource for all of these equations is Robert J. Simeone's fact sheet which can be found at: MOA and mil ranging equations. If you desire to dig deeper for the proofs of these equations, he provides them here: Understanding mil and MOA equations.  After finding the target range using a mil or MOA reticle scope, bullet drop may be compensated for in two principle ways. The scope's elevation adjustment may be used to compensate using drop values from a table or, alternately, you may dial the drop using a custom elevation knob that is calibrated to your rifle and load. The other method to compensate for bullet drop is to utilize the scale itself and hold the correct distance over the target as indicated by said table. Typically, the MOA or mil reticle does not include any bullet drop compensating elements etched in the reticle since the range must be calculated and this is time consuming. It is assumed that if you have the time for a range calculation, you will also have time to compensate for the drop using a more precise method. It can therefore be seen that in regards to both ranging and drop compensation, a mil or MOA type reticle uses the more accurate, but also more time consuming method.
Background on the Stadia Route
The second main type of range finding reticle is what I will refer to as the stadia type. Stadia type reticles display an object (the stadia) sized to coincide with that object at several distances on the reticle. It is notable that while the United States was developing its cold war era sniper scopes to use mil scale ranging, the USSR took the opposite approach and utilized stadia based ranging in the PSO-1 sniper scope. This scope was ranged using the average height of a man as its stadia. Other examples of stadia based ranging are the Trijicon TA31 series of scopes which use the chest width of a man as their stadia, and the GRSC which uses 10″ circles and lines as its stadia. Stadia based reticles do not require the user to do any calculations. Instead, the object being ranged is simply lined up with the correct size element on the reticle and the range is read. In keeping with the quick and dirty focus of this type of range finding, most, though not all, stadia based reticles incorporate the bullet drop compensation directly into the reticle. No adjustment of the knobs necessary. Just use the aiming point labeled for the range you have determined. This allows for extremely quick range finding and drop compensation.  Quick but dirty, as this compensation is limited to the round and platform it was calibrated for and becomes less accurate the more the round and platform differs from what it was designed for.
Half Breeds and Wrinkles
You have probably figured out that somewhere between a Unertl 10x and a Trijicon TA31 there exists a whole sea of half breeds. These are scopes that might have both scale and stadia based ranging options such as the S&B MSR. Western European militaries seem to be quite partial to arrangements of this type. The idea is that a soldier not under fire can range using the slower but more accurate scale method, while one who is under duress has a quick thinking-free stadia option as well. Scopes also exist that range with the stadia method but use the elevation adjustment to compensate for drop, such as the aforementioned PSO-1. Still other scopes provide more than one drop adjustment method. Many of the nicer stadia based scopes featuring quality elevation adjustments that are well suited for use compensating for bullet drop come to mind, particularly the GRSC 1-6x and the Vortex Razor HD with EBR-556 reticle. Truthfully, this is usually less of a design feature than a byproduct of the fact that they are quality scopes with good adjustments. Since the adjustments are good, they are suitable for drop compensation, whether intentionally or inadvertently. In theory you could also have a scope that ranges using the scale method but has reticle elements calibrated to compensate for drop. I can't think of any of these offhand. The idea of a half breed is simple: to partially mitigate the liabilities of their primary method by incorporating parts of the other.
The Reticle Choice Dilemma
This brings us to the crux of our dilemma. Given the choice of quick range finding that requires no math and sacrifices no accuracy, it would be insane to choose the lengthy approach. This is not the case, however. I found that accuracy is sacrificed as well as, in many cases, versatility. Most stadia based reticles use dimensions of the human body as the stadia and I for one have never shot at a human body. Though the GRSC reticle mitigates this somewhat by including 10″ hash marks and 10″ gaps that can be easily used to range anything; other reticles, such as the Trijicon, are less versatile.  I was concerned to know much accuracy was given up using different stadia based reticles. Since the accuracy of the reticle decreases with distance while the accuracy required for a hit increases, it is not hard to see that at some distance the ranging capabilities of any reticle are insufficient to yield a range accurate enough to reliably hit the target. It is important to have some idea of what this distance is, how much shooting is likely to be done beyond that range, and whether the rifle and round are effective at that range anyway. Below is the ballistic table for 62 grain m855 5.56mm ammunition fired from an M4. This table includes information not only on the drop of the bullet at each yardage but also the progressive decrease in energy as the round travels down range. Note that at 500 yards the energy is equivalent to the energy at point blank range of a typical 9mm round fired from a handgun. At 1000 yards it is equivalent to common bulk pack .22lr high velocity ammunition. Allow this to inform your perception of the distance to which you need to be able to range accurately with your 1-(n) power scope that is most likely mounted on an AR.
My Dam Experiment
With all this in mind I set out to the local municipal dam / recreation area with a bevy of scopes, a photography rig designed to aid in taking clear through the scope pictures, and a life sized erector set of a fake man to use as a ranging target. I went to see what I could see and to see if I would have any idea whatsoever how far away what I was seeing was. It was an eye opening experience…..damn, all out of clichés.
The following pictures were taken through three of the four scopes I brought with me. All the photos have been scaled to appear as if taken at 6x to eliminate the natural advantage in ranging that high power scopes enjoy over low power ones. I have labeled the pics with the distance to target so you can assess your ability to correctly range the target through each scope. Ranges listed are accurate within 1.5%.
Disclaimer: I feel that it is important to note here that you should weigh your experiences with these photographs carefully. The photographs are low resolution and compressed. These scopes are all good to excellent glass and appear much better in person. More importantly though, it is my experience having taken these photographs that ranging with them relative to ranging live through the scopes themselves aids the mil scale scope and does harm to both stadia based scopes for two reasons. Firstly, having a photograph allows you to very precisely determine the number of mils subtended by the target because there is no movement in the photograph. Normally the user can only focus on one or the other side of the object being ranged with the mil scale scope at a time. You essentially quickly focus and refocus on each end of the item being ranged and try to figure out exactly where each lines up on the scale. All the while the target or scope moves somewhat, making things more difficult. Secondly, the stadia based scopes benefit greatly when the user can move the scope around and directly line up the object being ranged with the correct stadia line on the scope. In effect you bracket the object being ranged on several of the different distance lines to see on which it fits. Photos are static and do not allow for this.
The Scopes and the Pics
The GRSC scope I used for the reticle is the very nice 1-6x Japanese version I reviewed here: GRSC scope review. It, as well as the GRSC 1-4x, uses a reticle I refer to as the "Base 10″ reticle because most elements represent 10" at the distance labeled. For example look at the line labeled "6". This is the 600 yard line. The inside of the circle represents 10″ at 600 yards. Also, each dash is 10″ as well as each gap between dashes. Therefore the circle can be used to range the head, whereas the gaps and dashes will range the shoulder breadth nicely. I suggest you utilize both when calculating range. Lastly, those 6 dots on each side of the horseshoe element in the middle of the reticle are conventional mil-dots. I have never used them in ranging with the GRSC, but I would be remiss in not mentioning them.
474 yards though the GRSC:
729 yards though the GRSC:
847 yards though the GRSC:
367 yards though the GRSC:
The Trijicon used is a TA31A 4x scope. It ranges using chest width stadia lines. Take a look at the line labeled "6". This line corresponds to 18″ at 600 meters. These lines are therefore very useful for calculating range based on chest width. Take note that the Trijicon ranges in meters: you can multiply your range in meters by 1.09361 to get the range in yards for your table.
474 yards though the Trijicon: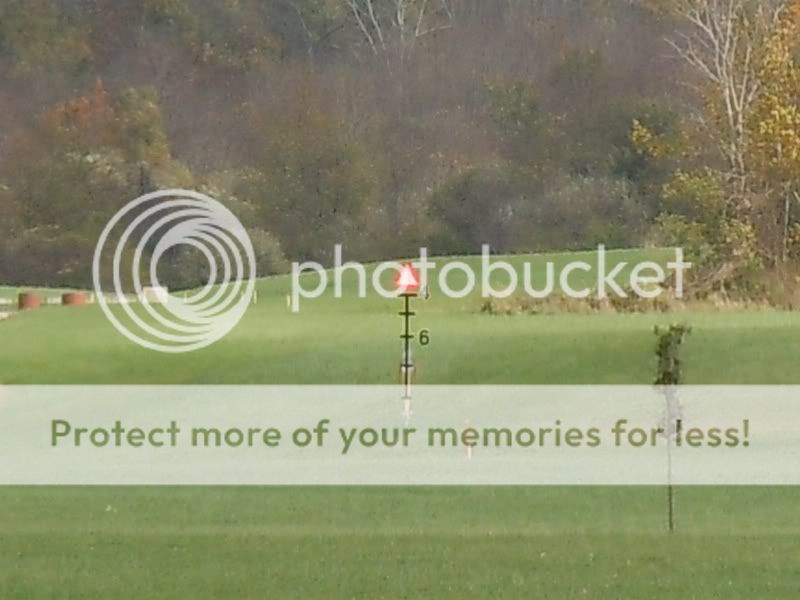 729 yards though the Trijicon:
847 yards though the Trijicon:
367 yards though the Trijicon:
The mil scope used is a US Optics 5-25x sniper scope with the GAP reticle. Its graduations are marked in mils. They are only labeled every 2 mils, but there are hash marks every .5 mils. For the mil scope, use the following formula to find the distance in yards: Actual height of the target (69 inches)/mils subtended on reticle * 27.78 = distance to target (yards).
474 yards though the USO:
729 yards though the USO:
847 yards though the USO:
367 yards though the USO:
Thoughts and Conclusions by Scope
GRSC
Let's start with the GRSC. I have been something of an advocate of this scope since the first time I used it. Actually, the first time I saw a diagram of the reticle I was a fan. It seemed a very clever design with the circles for heads and thick horseshoe close quarters element. What I found in using this scope for these ranging experiments was somewhat mixed. The head based ranging was largely ineffective beyond perhaps 400 yards. I simply was not able to determine the range of the target by bracketing the head to near the accuracy necessary – this despite the fact that my stick figure man with a 9″ diameter head was much easier to range the head of than a normal human being. The problem was twofold. First, the head is not exactly the size of the circle. This was true of the stick man and is even truer of an actual human whose head would only be about 8.5″ high and much narrower. The second problem was even worse and ultimately insurmountable. The head is small, really small. Ranging anything that is only 10″ wouldn't really work with only a 6x optic. 400 yards was all she wrote for effective distance when ranging heads on the 10″ circle. I'm not saying that adding 100 yards to your effective distance verses an optic with no ranging capability is a complete failure but it was a disappointment.The 10″ circles are not the only elements in the GRSC's reticle though. I have long used the 10″ dashes and gaps to range groundhogs as a full grown groundhog is about 20″ long. They also work well when ranging shoulders. Shoulder based ranging is used by Trijicon, IOR, Leupold, Vortex, and others in one or another of their tactical products. It is the most common stadia based range measure. Because the shoulders are much larger than the head, ranging effectiveness was increased when bracketing the shoulders with the 10″ dashes and gaps. Effective range was increased out to 500 yards. Then I got creative. It had become immediately apparent to me as I ranged using the mil scale reticle that ranging using the stick man's height, his largest dimension was my best bet. However, since the GRSC's 10″ dashed lines were horizontal, they most easily ranged width. I flipped the scope on its side and took a gander. Now the lines were vertical and it was very easy to bracket a 69″ man using a line composed of 10″ dashes. Now, once you get to 700 or 800 yards, you have got to be damn accurate in your ranging to hit anything and this says nothing for your windage read. 5.56mm is like a leaf in the wind at that range. On top of all that, the bullet isn't really packing much punch when it gets that far out anyway. To put it simply, I wouldn't put much stock in ranging and hitting an enemy combatant at 700 yards on the first shot. You might do 600 though. Basically, the most useful feature to range with on the GRSC is the 10″ dashed lines. They have the versatility necessary for ranging a variety of targets related or unrelated to combat applications. This is a blessing since the GRSC is designed and marketed as a combat optic and I am using it in an off label application. It should also be noted that the GRSC 1-6x has first rate turrets on it and drop can be adjusted using them in the manner of a scale based scope if the user's platform differs from the M4 M855 greatly enough to render the reticle etched bullet drop points ineffective. In the end I find myself still very keen on the GRSC for somewhat different reasons than when I started.
Trijicon
 Next up in the discussion is the Trijicon. As mentioned in the last paragraph, the Trijicon ranges using the shoulders. I found its performance in doing this exactly as the performance of the GRSC when ranging based on the shoulders. The ranging was accurate enough to about 500 yards, but became suspect after that. The Trijicon is marketed as a military optic and its ranging, being based solely on 18″ shoulder width brackets, is not particularly suitable for off label use excepting perhaps for groundhogs which are very close to 18″ in length. The ACOG is a very unique optic: light, short, durable, simple, always illuminated, and purpose built for a specific platform. It sacrifices an adjustable power range, diopter, reasonably adjustable turrets, adjustable illumination, and versatile ranging and bullet drop to these ends. It is what it is and I found it to deliver what it promises out to 500 yards.
US Optics
 The last scope in my lineup is a purebred long range sniper scope. U.S. Optics makes first quality long range optics with some of the best mil and MOA scale reticle options on the market. The reticle in this SN-3 5-25x is known as the GAP reticle and is easily their most popular. It is a prime example of a modern mil ladder reticle and since it is really best incremented for 10x use, it didn't work that badly at the 6x I scaled it to. As I mentioned in the intro to this increasingly long article, I do not have extensive experience ranging. Doing these exercises gave me a great appreciation for the accuracy of scale based ranging instruments. I ranged all of the targets in question with both this 5-25x and an MOA scale 3.2-17x which was significantly more finely ruled (and unsuitable for 6x ranging). The maximum deviation between the two scopes in range calculated was 1.25%. Even when the 5-25x was turned down to 6x to level the playing field, it was remarkably precise in its ranging. It was easily capable of significantly outdistancing the effective range of the M4 m855 platform even at 6x. Scale based scopes range accurately and with much more versatility than stadia based scopes.
The Take Away
Admittedly, going in to this testing I was rooting for the stadia based scopes. I hate to pull out the calculator or purpose built slide rule to do ranging calculations. It's just one more thing to deal with and I find the idea of folks doing this in a combat situation suspect. Aiming in combat is already a suspect endeavor since it requires you to stick your head out. Vietnam after action reports did not indicate much aiming on the part of soldiers. How much less likely would ranging be?The purpose of a sniper scope with a scale based reticle is not to range soldiers shooting at you. Your enemy is not supposed to know you are there. It's really not that much different from hunting in an unnerving sort of way. Either way, if your quarry gets wise your cause is lost. Presumably, in either situation you have time to punch the buttons and slide the slide rule.I mention all of this because the AR type rifles that most often host 1-(n) power scopes serve many different purposes. Some folks get issued them in combat overseas; others eliminate varmints, punch little holes in paper, or kill dinner. Some of these applications are quite amiable to time consuming calculations and others are not. Before you choose a scope you had best consider what range of applications you intend to use it for. If speed is involved in shots beyond 300 yards, stadia based ranging is a must. If speed is not an issue and the target is small and far away requiring great precision, a scale based reticle is a must. I suspect that most folks would be well enough served with a well chosen scope of either stadia or scale persuasion, not to mention one of the various half breeds available. What I mean for you to take away from this article is not that you should choose this reticle type or that in this scope or that. What I would like is for you to really take an in depth look at the design strengths and weaknesses of the options available to you and make an informed decision based on your perceived demands and preferences. I hope this article has been of aid in the process.