Hawke Sidewinder Tactical 30 4.5-14×42
Hawke Sidewinder Tactical 30 4.5-14×42
This is the second time I am looking at a Hawke Sidewinder 30 scope. The one I looked at before was the 6-24×56 model, and I was less than kind to it (frankly, deservedly so). After that review I thought that my good relationship with Hawke was going to come to an abrupt unilateral conclusion, but it turned out I was wrong. They added another scope line to Sidewinder 30, called "Tactical" and incorporated a lot of my feedback into it (honestly, I suspect that they had a lot of the same feedback from different people, but it feeds my vanity to think that my whining was the "straw that broke the camel's back").
This scope is a better design than the earlier one I saw in every way I could think of:
Optical quality is much improved. I am told that the optical system went through a thorough redesign.
The reticle I looked at is a skeletonized Mil-Dot, with half-mil hashmarks (Half-MilDot in Hawke-speak) and 0.2mrad marks near the edges of the floating reticle.
Side focus "big wheel" is not very big anymore, so you can comfortably adjust the elevation knob with either arm (with the old ginormous wheel you could not do it with the left hand).
Illumination on the low setting is much less bright than on the original model.
I used it fairly extensively on two boltguns: one chambered for 308Win and another for 338 Lapua Magnum. Point of impact never shifted and adjustments stayed accurate. After about 40 rounds on 338LM, some miniscule debri settled on the periphery of the glass-etched reticle, but that did not effect the functioning of the scope in any way. I have seen this type of debri on scopes in all sorts of price ranges and I am not especially bothered by it. The guys from Hawke tell me that this happens once in a while and they are happy to re-purge the scope if necessary. With this particular scope, I was able to pound it on the table a little and dislodge the debri, so it is not visible. However, there is always a chance that it will show up again.
All in all, I liked this scope enough to put it onto my "recommended" list, albeit conditionally. Since the whole product line is pretty new, I would like to see how it holds up over time. So far, I like what I see and consider it the best Chinese-made target/tactical scope to date. There are some things that I would like to change, but for the money, this scope offers a lot.
Now, let's get into the details.
Hawke Sidewinder 30 Tactical 4.5-14×42
Burris Fullfield II TAC 30
4.5-14×42

Sightron

S2 Big Sky 4.5-14×44

Nikon Buckmaster 4.5-14×40

Leupold Mark 2

4-12×40

Millett

TRS-1

4-16×50

Length, in
14.6
13
12.56
14.4
12.4
16.4
Weight, oz
27.3
18
15.9
17.6
14.5
29.4
Main Tube Diameter
30mm
30mm
1″
1″
1″
30mm
Eye Relief, in
4
3.8 – 3.1
3.9 – 3.8
3.7 – 3.6
4.7 – 3.7
3.5
FOV, ft@100yards
22.6 – 6.88
22 – 7.4
21.8 – 7
19.9 – 6.8
22.8 – 11
29 – 8
Click Value
1/4 MOA
1/4 MOA
1/4 MOA
1/4 MOA
1/2 MOA
1/8 MOA
Adjustment range
85MOA
64MOA
70MOA
50MOA
56MOA
65MOA
Parallax Asjustment
SF
AO
SF
SF
AO
SF
Country of Origin
China
Phillipines
Japan
Phillipines
US/Pacific Rim
China
Price
$390
$500
$625
$300
$500
$310
When thinking of the scopes that belong in the table above, I was trying to decide which products go after the same customers as this Hawke. After some thought I came up with the scopes in the above table. They all have somewhat similar configurations and bracket the Hawke both in terms of price and performance. The most direct competitor to the Sidewinder 30 Tactical is probably Millett TRS-1, which I included in the table. I have fairly extensive experience with Millett, but since Bushnell purchase I have seen a fair amount of quality fluctuations with Millett scopes. Even aside from that, I think Hawke is a better scope, both optically and mechanically, so I wanted to see how it compares to similarly configured scopes of non-Chinese origin.
Just looking at the numbers in the table above, several things stand out:
The two chinese-made scopes are substantially bigger and heavier than the other ones. They are, however, the only scopes here designed from scratch for 30mm tubes.
Hawke has the most adjustment range in this group if your application requires it.
None of these scopes have particularly short eye relief, with Hawke having somewhat longer consistent eye relief and narrower Field of View than other scopes here.
All of these scopes have MilDot reticles in the Seconf Focal Plane (SFP) and MOA-based knobs.
As a practical matter, I do not have all that many scopes on hand, so I tend to use well known substitutes in order to gauge the optical quality of the scope in question. In this case, I compared the Hawke Sidewinder 30 side by side with Sightron S2 Big Sky 6-24×42 (a reasonable optical quality substitute for the 4.5-14×44 Sightron), SWFA S.S. 10×42 and a whole host of 3-9x scopes that I happened to be looking at for a different review (Vortex Diamondback 3-9×40, Burris FFII 3-9×40, Sightron S2 3-9×42, etc).
As is my custom, I compared scopes on multiple occasions and in varying lighting conditions. I also asked other people to look at them to see if their impressions jive with mine.
The Mechanicals
Truthfully, I liked the mechanical quality of the earlier Sidewinder 30 I saw, and this scope was a case of more of the same. All controls operated smoothly and repeatably. The pop-up knobs have a slight amount of slack in the clicks, but I suppose you need that in order to be able to push them back down and have all the notches match. The basic feel is that of a well-made scope.
Overall, the scope is quite substantial. Here is a picture of it sitting on top of my 308Win Mauser:
The eyepiece is pretty long which, coupled with rather generous eyerelief, puts the rear ring fairly close to the magnification dial. I am 6'0″ with long arms and my rifles usually have fairly long length of pull. For someone appreciably taller and skinnier than me, mounting can get a little tight on a short-stocked rifle, but that seems like a rather unlikely thing to happen.
The overall arrangement of controls is fairly intuitive and easy to use. In the picture above, I was operating the scope without the large wheel parallax adjustment. Since the side-focus knob also incorporates the reticle illumination control, putting the big wheel on makes it a little more user-friendly. However, I had no problems with it either way. Side focus adjustment was smooth and repeatable, with no obvious hysteresis in the system.
Windage and elevation knobs have 1/4 MOA clicks and, as I already mentioned, are of a pop-up variety, where you you pull it up if you want to make and adjustment. If you want to lock the knobs, just push them in until there is a slight click. Overall, I like this arrangement, although it seems to preclude having a revolution counter of some sort. For long range shooting a rev counter is very useful. With my 308Win rifle, I could get out to about 600 yards with a single turn of the knob. If you want to shoot further than that, you will have to remember how many times you have turned the dial. As a practical matter, the range where I shoot does not go beyond 700 yards, so it was not a hindrance for me (with the 338Lapua, predictably, I did not need to go beyond a single revolution of the elevation knob).
Here is a snapshot of the scope with side-focus wheel mounted (and on a DTA 338LM rifle):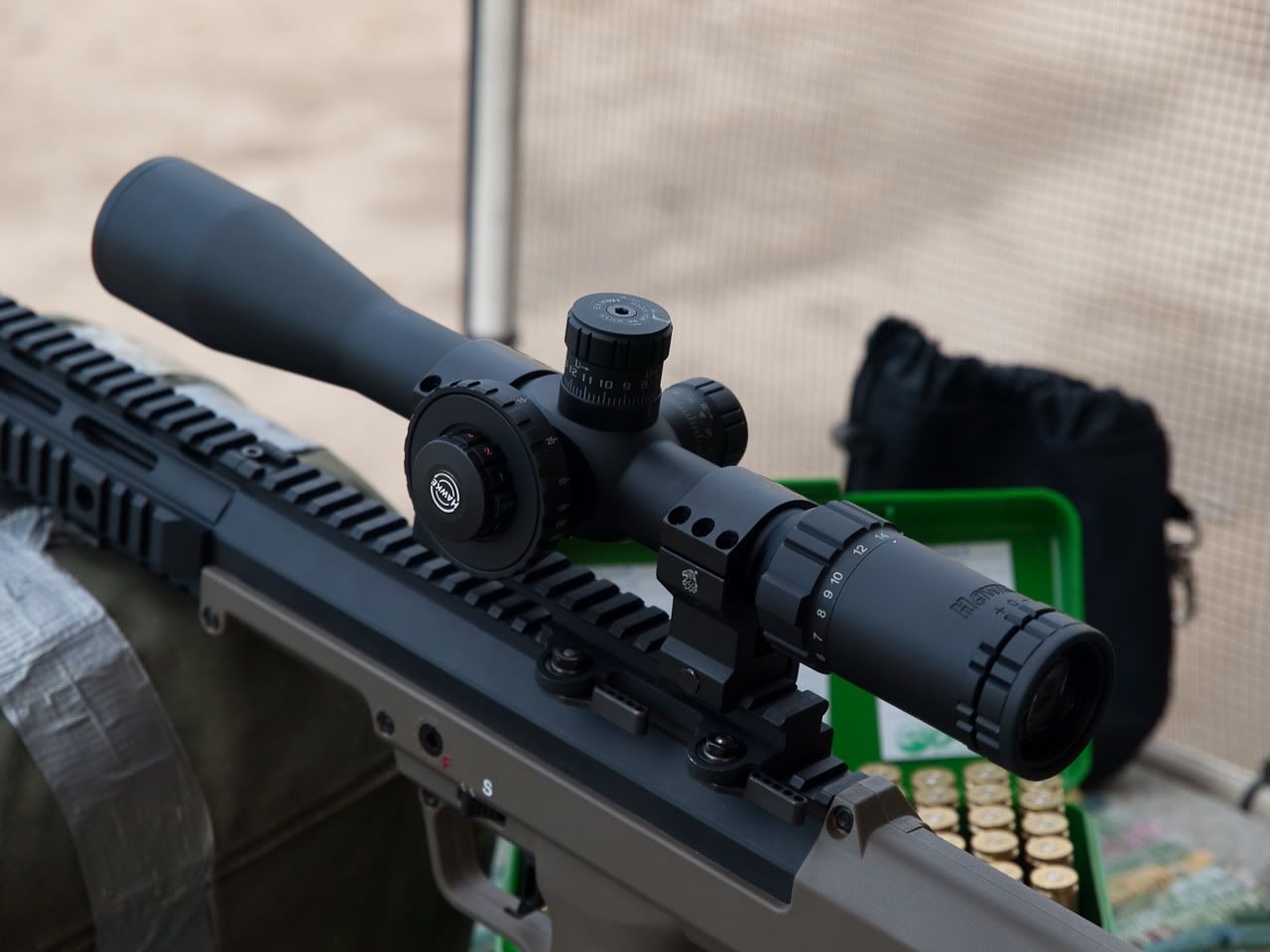 This scope comes with a 2 inch diameter side-focus wheel (original one was 4 inches in diameter) that provides a bit more leverage and precision to the parallax adjustment.
Reticle and Reticle Illumination
The reticle in this scope is new to Hawke and is a version of the MilDot (sorta) called Half-MilDot. Essentially it is a skeletonized Mil-Dot, with half-mil hashmarks and 0.2mrad marks near the edges of the floating reticle. The reticle is glass-etched (easily confirmed by the fact that it is "floating" with no wires reaching the outer rim of the image) and very thin in a manner similar to Nightforce's skeletonized reticles. That can be either a good or bad thing depending on what your preferences are. In challenging light conditions, this reticle requires illumination, otherwise it is very difficult to pick up. On the other hand, those thin lines allow for excellent aiming precision (and help with accurate ranging).
I am not a big fan of "through the scope" reticle shots, so if you want to see what this reticle looks like, Hawke has a nice online tool just for that purpose:
The reticle has red and green illumination, with five levels of each. The way it is set-up is that there are two OFF positions: from one you can go to either lowest red or highest green with one click, from another either lowest green or highest red. Green is a bit more visible in daylight, while red interferes with your night vision less. I only ended up using lowest red and brightest green settings depending on the situation. The good part is that the lowest red setting is sufficiently dim to use in very low light without overpowering the image.
Overall, I felt illumination was well sorted out and quite usable (for the record, that is not very common in this price range). Power for illumination is supplied with a standard 2032 battery. I am not sure how long it lasts, since I did not manage to deplete one during my time of usage. Granted, I mostly use illumination in low light and at its dimmest setting, where it likely can last for a while.
The reticle is calibrated to be mil-accurate at 10x. However, since the knobs have 1/4 MOA clicks, I mostly ranged using it as a MOA-based reticle. I empirically determined where the spacing between the two hashmarks is equal to 3MOA (~11.6x) or 4MOA (~8.7x) and used those two settings for ranging depending on which magnification suited the lighting conditions better.
Optical Quality
This is where most of my original complaints with Sidewinder 30 were, and this is where I found the most improvement. The glass is much improved. Part of it is undoubtedly due to a smaller objective lens. It is simply easier to control image quality when you do not have to bend light as much. However, overall stray light suppression is much better. This scope is much less susceptible to flare and ghost images.
Overall, I found that the scope resolved fine detail quite well, although contrast was not quite as good. Side by side with Sightron S2 Big Sky, I could see a bit more detail with the Sightron regardless of lighting conditions. Perhaps, more importantly, the image with the Sightron "popped" a bit more, so I could pick stuff up quicker. With the Hawke, I could see almost as much detail, once I had some time to focus on them, but it definitely took more time and attention. Another scope that I spent a lot of time comparing to the Hawke is the SWFA Super Sniper 10×42 (non-HD version). Right in the center of the field of view, Hawke actually outresolved the S.S. slightly. However, once again the contrast was better on the S.S. and optical performance outside of the center of the field of view was better as well.
That amounts to very respectable glass quality for the Hawke. Field of view is a touch narrower than I would have liked, but not excessively so. Tunnel vision is well controlled and never becomes intrusive. Even in low light I could not get the scope to exhibit any especially strong artifacts (although, like with almost any similarly-priced scope there were plenty weakly visible artifacts when faced with bright light sources at night).
Eye relief was right around 4 inches. It was a bit longer at low magnification and a bit shorter at high magnification. The eye relief change between magnifications was large enough for me to notice, but not large enough for me to change shooting position. Since it did not cause me any grief, I did not try to get exact measurements of it. I never got close to getting hit by the scope due to recoil and eye position flexibility was sufficient for my needs.
Depth of field was quite good and, frankly, a little better than I expected. On second thought, any time you have a fairly long scope with a moderately sized objective lens, depth of field should be pretty good.
Bottom Line
Bottom line is that the scope performed very well. It is very feature-packed:
Usable reticle illumination
Flexible magnification range
Sufficient adjustment range for most long-range shooting
Repeatable knobs
Decent glass
With all that, the scope retails for less than $400. The word is still out on durability. I am told that these are selling pretty well, so as more of them get out into the field, there will be enough statistical evidence to see how they hold up.
Still, there are a few things where I would like to see improvement in going forward. For one thing, I hope to see further improvement in optical quality, especially with image contrast. Also, currently the reticle is mil-based and knobs are MOA-based. I managed to work around that, but it is a little inconvenient. Like with any SFP scope, you have to pay attention to the exact setting of the magnification ring if you want to use the reticle for ranging or holdover. It would be good to have ball detents for the magnification settings that allow for both mil-based and moa-based ranging. Lastly, if the scope is to be used for long range shooting, it would be nice to have some sort of an elevation knob revolution counter.
The one thing that actually did annoy me, was the screw-in scope cap design. The scope comes with aluminum end caps that thread in kinda like Leupold's Alumina accessories. Admittedly, they look cool and open up a range of possibilities for various scope caps, filters, etc. They also protect the lenses. However, for general usage, I found them annoying. I do not like to leave the lenses exposed to the elements any more than I have to, so I would have preferred flip-up covers of some sort.
Finally, the question is: which application does this scope fit the best? I believe that it is at its best when used within 600 yards or so. I felt it was a good fit on a 308Win boltgun:
It would also make a good fit for a mid/heavy barrel AR-15, or any varminter chambered for a fast 22 of some sort. Since the scope is quite hefty it might not be the best choice for a walking varminter, but it would be a good fit on a heavy barrel rifle.
While it held up fine on my 338LM:
It probably was not the best fit for it. I try to take it out to longer ranges occasionally and there I do not want to have to remember how many revolutions of the knob I used.
Here is the relevant OpticsTalk thread: